I'm reaching for some cheesy double entendre about artwork on the walls supporting the art of medicine.
This because, once again, artwork on the walls of Sammy T's is going to help us practice the art of medicine at the Moss Free Clinic where I am medical director.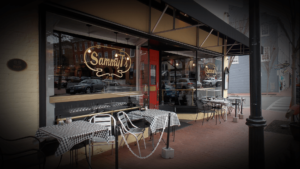 Moss is part of the "the Safety Net" of clinics that provides care for people who otherwise cannot afford it due to lack of health insurance, or income – which USA Today reports is 1 in 11 Americans, for a total of about 31 million nationwide.
Recently celebrating it's 25th birthday, the clinic was started by Lloyd F. Moss, MD, an internist and philanthropist with the Pratt Medical Center, where I was fortunate enough to briefly be a contemporary when I joined Pratt in 1986.
Usually known as Jeppy, he was the patriarch of Fredericksburg's Moss "dynasty" of doctors and dentists. His son, Lloyd F. Moss Jr DDS, is dental director of the clinic.
With the expansion of Fredericksburg, the clinic has grown from very limited service two evenings a week through two different incarnations to its' present custom-built home on Mary Washington Hospital campus. It is now open five days and two evenings a week (though evening clinics are currently on hold due to COVID).
Patients are seen by our three wonderful and caring employed nurse practitioners (Cathy Duncan, Quintina Foster Jackson and Carol Drever) with the help of a host of dedicated nursing and administrative staff, especially Executive Director Karen Dulaney, who has been at the helm, overseeing the clinics running since 1995.
The clinic is also reliant on hundreds of volunteers, which includes about 175 doctors and dentists who donate their time and expertise. And on local hospitals – especially Mary Washington Hospital – to provide charitable services such as lab, imaging and in-patient care.
Unlike many other safety net clinics Moss has a pharmacy that has its hands full dispensing more than 40,000 prescriptions a year.
Though providing essential services with over 10,000 consultations in a year to low-income patients (anyone earning under 200 per cent of Federal Poverty Guidelines, which is an income of under $25,520 for a single person or $52,400 for a family of four, is eligible)
the clinic is wholly dependent for funds from voluntary donations from individuals, organizations and businesses – and is always struggling to be able to afford the services the patients need.
The clinic is proud of its' leverage, managing to provide $30 million worth of service for an annual budget expenditure of about $2.2 million. Or about $15 in care for every $1 donated.
A Needy Population
Others I think tend to have the same misconception as I did before I signed on as medical director just over 10 years ago – that the needy people we see have somehow brought it on themselves. But frequently it seems to be a "there but for the grace of God go I" scenario - like the woman who ran an engineering business with her husband. When he died of a heart attack, she lost her husband, her job/income – and because of the crazy business of health insurance being tied to employment – her health insurance as well.
Sammy T's has organized art sales to benefit the clinic for multiple years now. They see that, though Fredericksburg is growing in leaps and bounds and some sectors are thriving, there is still a portion of the population not being lifted by this "rising tide".
People who would literally be dying, if Moss, and other Safety Net clinics, were not providing care.