There is a life and death struggle taking place at the office of Fredericksburg pediatrician Dr. Nimali Fernando.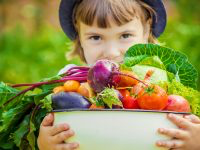 Better known as "Dr. Yum" she is the creator of the Doctor Yum Project – a program that is attempting to wrest kids away from what has become the standard American diet of salty, fatty, sugary foods with refined carbohydrates - that is likely a major contribution to the alarming recent decreasein life expectancy. Instead she is helping them make friends with natural, unprocessed foods, fruits and vegetables.
A Gracious Reception
Despite having been featured in national media like the New York Times and NBC Nightly News, I was impressed when Dr. Fernando answered the phone herself, and was openly welcoming when I asked if I could come and write something for Front Porch.
I went on a Wednesday evening when instructors Wendy and Sarah were teaching parents how to make a healthy noodle stir-fry. Before class they showed me round the office, where you can see the doctor in the carrot, broccoli or blueberry exam room. Or if you're an infant, in the sweet-pea room.
Located at Spotsylvania Courthouse, the office is boxed in by what they are fighting against - Burger King on one flank, Mc Donald's on the other, and a Taco Bell in the making just behind, seeming to threaten and overshadow the little vegetable garden behind the office, where kids learn how to grow vegetables. And are encouraged to sample anything ready for eating.
The Rules
We were joined by Dr. Fernando, slim and elegant in her long overcoat coat, she explained how the endless parade of kids seen in the office with health issues related to poor diet and being over weight – pre-diabetes, constipation, attention deficit, knee pain, high blood pressure – prompted her to start a nutrition education program when she didn't have time to instruct all her patients one-on-one.
Explaining that "feeding is a developmental process" that involves all the senses (so put your toddler in just a diaper and let them have at it she says) she criticizes using food as a reward or punishment. It interferes with development of healthy habits – "don't tell your child 'eat some broccoli then you can have the desert.' They'll think the desert is the good stuff."
She also spelled out the principals parents need to follow.
Be proactive - so you always have healthy foods available.
Be consistent - so the child gets the same unflagging message.
Be brave - which means the parent has to have the chutzpa to be in charge at meal times. To determine what the child eats. Not vise-versa.
Attending the class was Tiffany D whose daughter was overweight and pre-diabetic. "Our pediatrician kept telling us it was 'too much juice', but we weren't drinking juice." When we got to Dr. Yum she pointed out things we were eating, like Chobani yoghurt, that has lots of sugar. "It was like eating ice cream."
When she started cooking fresh foods – which wasn't nearly as hard as she expected – and sending her daughter to school with the left overs for lunch, her daughter lost 20 pounds, and her blood sugars corrected. "And I lost forty pounds" she told me – and they both had a large energy boost.
Over-fed to Death
There is no question the massive rise in childhood obesity (from 6.1 per cent for kids 12 – 19 between the early 1970's to 20.6 percent in 2013-14), that has prompted the NIH to warn "childhood obesity is one of the most serious public health challenges of the 21stcentaury" makes the Doctor Yum Project a life saving venture, that not just parents need to take note of.
See her website at https://doctoryum.org, and book (written with expert on eating disorders, Melanie Potock CCC-SLP – "Coach Mel") Raising A Healthy Happy Eater – a
Stage-by-Stage Guide to Setting Your Child on the Path to Adventurous Eating.