I wrote this after the local library had an exhibition of native American culture - including a lot of information about diet and how change from "Pre-Captain Cook Diet" is causing an epidemic of diabetes.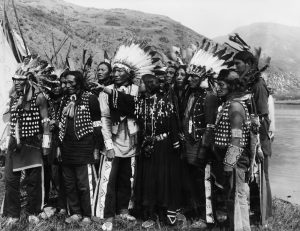 You may have wondered if you saw the Patawomeck village outside the downtown library last month. It was not the local native people reclaiming their land (though they are a Stafford based tribe – one of 11 recognized in Virginia).
No this was part of the 'Native Voices: Native Peoples' Concepts of Health and Illness, exhibition that the library staff persuaded the National Library of Medicine and the American Library Association to bring to Fredericksburg (against some serious competition I gather).
This started with a glitzy reception - wine, fancy nibbles - where I rubbed elbows with real native American Indians like chief John Lightner, of the Patawomeck, and, Yvonne Epps-Giddings, a nurse/ doctoral student with the Indian Health Service and member of the Nottaway Tribe. Despite Epps-Geddings slightly disjointed key-note address, we learned about one of the main health challenges of the native American population today – the high rate of obesity and diabetes.
The CDC and Indian Health Service report prevalence rates of diabetes as high as 60 per cent among some groups.
Their metabolic malaise is the same scourge that has challenged the US – and the industrializing world as a whole. The replacement of "Pre-Captain Cook Diet"* with junk food.
The unfortunate isolation and poverty that pervades so many reservations often means access only to Convenience stores with inventory of sodas, energy drinks, chips, and other snack foods and paucity of fresh fruits and vegetables reports the American Diabetic Association.
And urbanization and separation of a people, often just one generation away from living very close to the land, plays a contributory role also.
Old Traditions to Fix Modern Problems
There are clinics starting, even in the cities, that incorporate traditional American Indian ideas - like the interconnectedness of communities; reverence for Nature, tradition, and the Great Spirit; that every person has a responsibility for his or her proper behavior and health and healing is actually done by the patient.
We newcomers may not use some of the chants, drumming, songs, stories, and sacred objects quite the same as the Indians, but a lot of their ideas could well benefit our degenerate "white-man" society, that has so often lost touch with habitat and spirituality.
We could also learn something from their knowledge of plants, where stuff like plantain, candlenut, ginger, guava, mescal, mesquite are a halfway house between food and medicine.**
So that primitive village on Caroline Street was helping us "immigrants" (which is what most of us are of course, despite this being used now as a term of abuse and division by some) come full circle, by teaching us that "regression" to the ideas of the indigenous peoples unrefined diet; greater respect for environment; and importance of the spirit can promote our health and healing.
*Captain Cook, on his travels (who was looking for a cure for the scurvy that decimated his crew), noted the Maoris of New Zealand (who have many genetic similarities to American Indians) ate a diet of fruits, vegetables and grasses but not grains, dairy products, refined sugar and processed oils. "None of them were decrepit…(but appearing with) cheerfulness and vivacity" he noted. Maori's have also been plagued by diabetes, and attempts have been made to treat them with a "pre-Captain Cook diet."
** We have been good at coopting some of their plants however - like agave to make mescal and Tequila, or Peyote cactus buttons for their mescaline – as described so graphically by Carlos Castaneda in The Teachings of Don Juan (or Aldous Huxley in The Doors of Perception if you prefer).